No Stone Unturned offers integrated, collaborative therapy and learning for children with disabilities of all kinds. Having every service under one roof is a unique model that means team based coordinated care, resulting in better outcomes for the children and their families.
As part of our team, your family will be at the forefront of decision making for your child. You can determine the skill and abilities your child's therapy focuses on based on your family needs. Our therapists will take your big goals and break them down into small steps that build progress. 
 The therapy team meets regularly to talk about the children in our care.  We surround your child with support and coordination from all angles, so they can make the most of their abilities. The result is therapy that builds on the unique characteristics, needs, and preferences of the kids we serve. 
The team mindset even extends to our office staff.  We help families of our patients by communicating directly with insurance companies to get approval for access to services.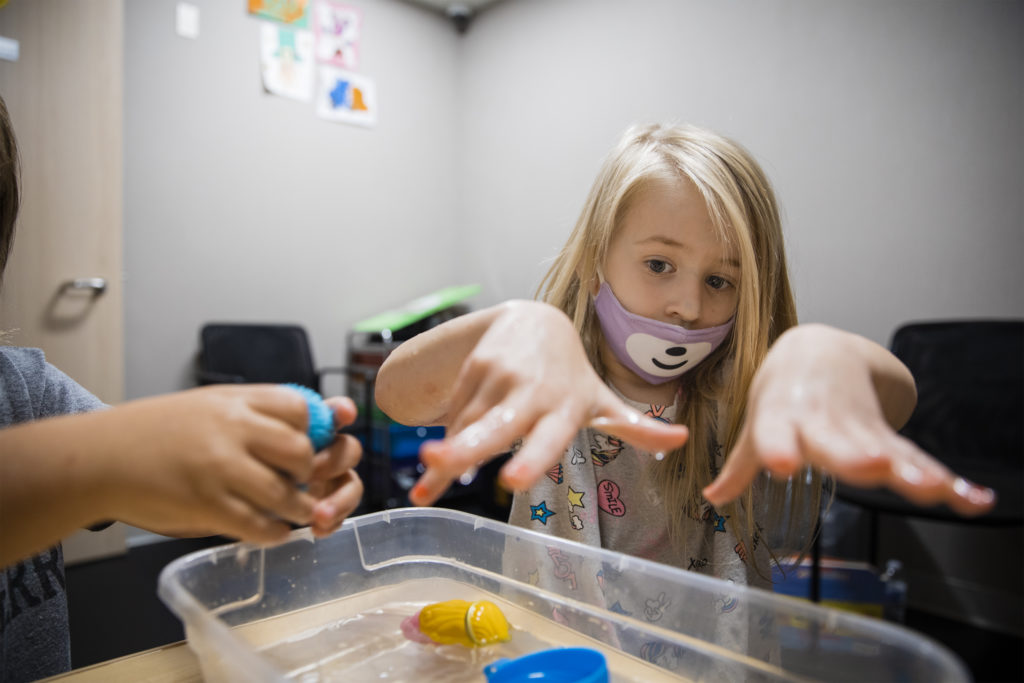 Physical therapy helps your child maximize their ability to move in support of their daily activities. PT is an important factor in promoting development, improving strength and endurance, enhancing learning opportunities, and enabling independence.
The goal of physical therapy is to increase their ability to take part in physical activities at home, school, and in their community.  
Occupational therapy helps your child with fine motor skills to succeed in the tasks they do every day, such as self-care, play, work, school, and interactions with their community. OT uses play-like activities to work toward developmental milestones and skills required for the playground and academic activities. It also can focus on helping process and tolerate information they receive through their five senses. The goal of occupational therapy is to assist your child to be fully prepared for the challenges and successes of life. 
Applied Behavioral Analysis
Applied Behavioral Analysis helps your child develop social skills and respond to situations positively. Applied Behavioral Analysis addresses everyday situations and helps decrease or increase specific behaviors over time. The goal of Applied Behavioral Analysis is to help acquire skills like language, self-help, and play while decreasing behaviors such as aggression, self stimulation, and self injury. 
speech–language pathology
Speech & Language Therapy helps your child maximize their vocal communication abilities. Speech & Language Therapy focuses on sounds and syllables through interaction such as talking and playing. The goals of Speech and Language Therapy is to stimulate language development and help children express themselves to their fullest capability.
• Sensory swim
• Social groups – drama, themed, pre-school, feeding
• Group and individual Orton-Gillingham sessions – reading support
• Aquatic therapy
• Vital Stim